Check out what we toured and learned on our last trip:
California
A total of 42 guests explored different aspects of agriculture on our 6th annual fungicide trip in central California, February 8-12, 2019. 
After flying into Fresno, CA we hit the ground running with our tours. 

First Stop...

Sun-Maid Raisins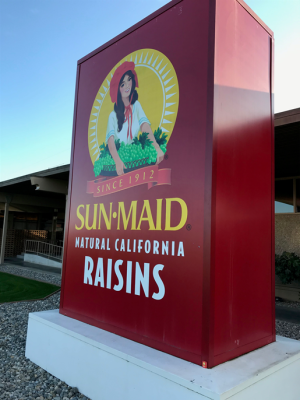 ​Due to food safety reasons, we were not able to tour the production plant itself, but we were still able to watch a video and learn a lot about grape/raisin production and the marketing of raisins. Sun-Maid started in 1912 when an entrepreneurial group of raisin growers agreed to sell raisins as one. The name, Sun-Maid, comes from the natural process of raisins being "made" in the California sun. Vineyards grown for raisin products are planted in an east and west direction in order to use the sun for drying most effectively. Grapes are laid on paper to dry for 7 to 10 days in the sun. Certain varieties can also dry on the vine, which takes 4 or more weeks to dry. 

The per acre value of vineyards for raisin production has increased over the years and is a staggering amount when compared to what we are used to in the midwest for corn and soybean production. And with the current attractiveness of the almond market, more grapes are being taken out of production. 

Second Stop...

Warmerdam Packing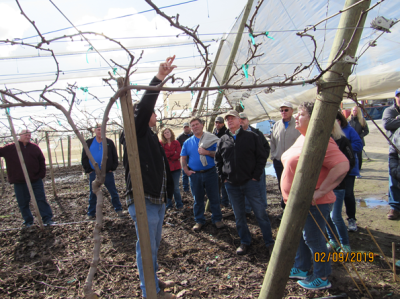 John Warmerdam (classmate of Greg's at UC Davis in the late nineties) gave us a tour and explanation of his packing house and farm. He considers himself a farmer, but their facility packs millions of dollars worth of cherries, plum cherries, kiwi and pomegranates a year (they pack for other farmers, not just their own production). In order to secure a niche market, Warmerdam's grow golden kiwi and plum-cherries (a hybrid of, you guessed it, cherries and plums!) Their golden kiwis are grown on 40 acres UNDER a tent (sun permeable) in order to maintain high humidity levels. 
​
Warmerdam's can run up an enormous electric bill to power their large refrigerators to keep their fruit cold. They also can keep thousands of pounds of fruit ripe longer by putting them in CO2 rooms; the lack of oxygen and pumped in fungicide keeps the fruit sellable far longer.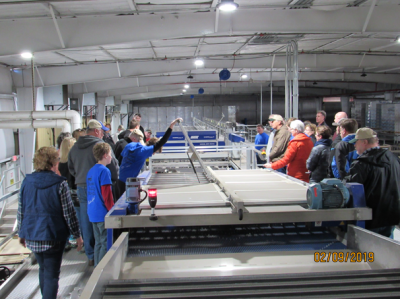 Their main focus is on cherries and they'd recently made a large investment in a state of the art cherry sorter. It takes 120 employees to run this efficient line, and without the more modern machine it took 160 employees at a slower pace to pack cherries. The machine takes multiple pictures of EACH cherry in order to sort out blemished cherries (which is easy to spot) and soft sided cherries which will spoil quicker (hard to spot with a human eye, but the machine can detect those and kick out those cherries). At their busiest, Warmerdam's payroll exceeds 1,000 employees per week. 
While we were there, John was watching his orchards with nervousness. He had hired a helicopter at $1,000/hour in order to stir the air above his cherry trees. Freezing temps will cause the cherries to abort their blossoms. Helicopters are used at cherry harvest when rain threatens to split the cherries. The helicopter hovers over the tree to dissipate the rain off the cherry.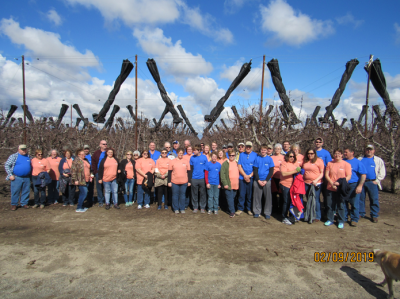 Next...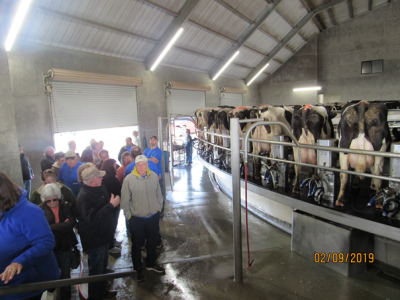 Johann Dairy
The dairy we toured on our trip was established in 1959 when the original owner came over from Holland. They now have the third generation working the dairy farm. The new dairy facility was built in 2003 and milks about 4,400 head with an 80 cow carousel. They will milk 2 ½ times a day (some cows 2 times/day; some cows 3 time/day) in order to be as effcient as possible with their milking parlor.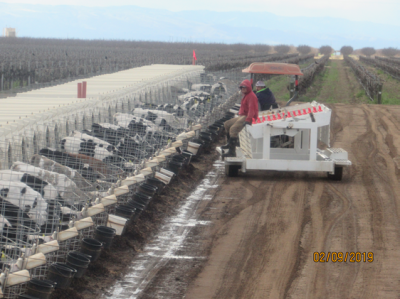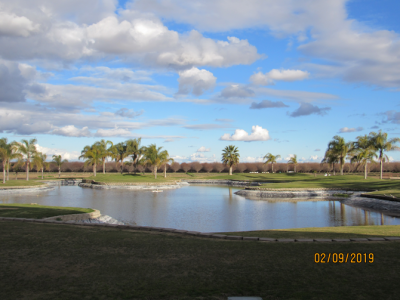 The animals on this dairy are well taken care of. They raise all their replacement heifers on site and have about 700 bottle calves being fed at one time.
   

This is a picture of their farm. It was beautiful! Designed by a golf course creator in 2008 when the US economy slumped and he didn't have any golf courses to work on!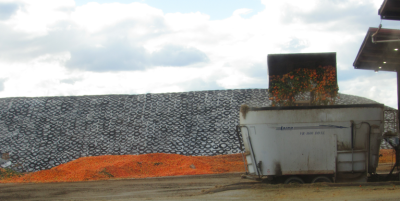 While on our tour, oranges that didn't make the cut for the fresh fruit market, where being added to the feed ration. The oranges have no effect on the milk's flavor. 
This farm also grows wheat, corn, alfalfa and almonds with alfalfa making as much as 8 cuttings a year.

Finally...

Yosemite
Yosemite was on our radar for Sunday night of our trip. But due to the park receiving multiple feet of snow and roads into the park closing, our group hunkered down in Oakhurst, California for an additional night. Oakhurst is nestled in the foothills of Yosemite so it was prettier than staying by the interstate in Fresno! This day gave our guests time to nap, swim or play cards. Pinochle was the choice of many, but the real card sharks play Uno!
​
The following day our group made a quick trip into Yosemite National Park to see El Capitan, Half Dome and a couple of waterfalls from our bus.